Today we are going to gather the list of the best mini electric skateboards.
In the early days, skateboards were used as a measure of fun. Kids of different ages rode around on skateboards and did different stunts. However, times have changed. With the introduction of electric skateboards, people are using them as a means of transportation.
Yes, with mini skateboards, people carry them in their backpacks and use them to travel small distances like offices, libraries, around the campus, a grocery run, etc. These mini electric skateboards have become a great way to inject some fun into your otherwise robotic life

.
That is why we will list the most popular mini electric skateboards you can find in the market. So follow our list and choose the best one for you.
Why Use a Mini Electric Skateboard & What to Consider When Choosing One?
Before you check out our list of best mini electric skateboards, you should know why you are buying one and what to consider when buying one. Let's start with the why 
Easy to carry
Lightweight. You wouldn't feel like you are carrying any extra weight.
Great for Air Travel.

You can travel around the world with a mini electric skateboard, which you wouldn't be able to with a long skateboard

.
Now let's see what to consider before buying one,
Battery - Make sure to buy a board with an efficient and high-quality battery.
Weight - Make sure to buy a board that is lightweight.
Speed - Your skateboard should have enough speed to go around.
Motor type - Try to go with the most motors.
Wheels - Be on the lookout for wheels with a proper diameter.
Now, that is out of the way, let's see the best mini electric skateboards list.
Best Mini Electric Skateboards
Here is the list of the most famous mini-electric skateboards,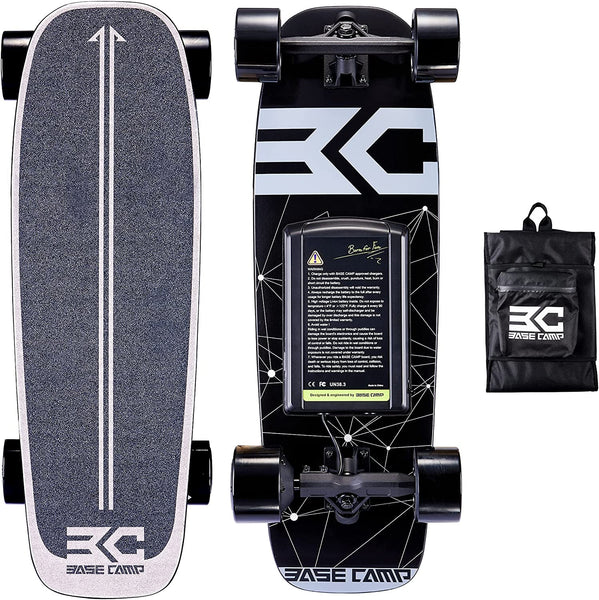 If there's a model which balances item weight and load capacity, it's this one, the BASE CAMP Electric Skateboard. Electric skateboards are normally thick because of their electronic parts. But hats off to Base Camp for creating a mini electric skateboard weighing only 5.5kg only.
It can also load a rider as heavy as 220lbs. Therefore, it's lightweight along with heavy-duty. This skateboard's 8-layered maple body is an absolute plus. These pieces make the design durable, flexible, and responsive when riding.
Along with an abrasive piece of grip tape, the deck holds the skater's feet firmly. This e-board becomes safer to ride.
This skateboard imposes safety for the rider but on itself too. Base Camp has this amazing bash guard attached to the skateboard's end. This strap makes sure that the kick tail is free from scratches and protects the deck from damage.
A lightweight board is already a benefit for many. But to own one with a bag in the package is rare. This skateboard comes with a carrying backpack, making mobility not an issue for its users.
Specs:
Price: $332
Battery - 4000 mAh (UL 2272, CE Certified)
Wheels - 90 mm x 51 mm, 85A
Motor - 300w Brushless Single Hub Motor
Recharge - 2-4 Hours
Mode - 4 Speed and Brake Mode
Weight - 5.5 Kg/11 lbs
Range- 9 Miles/14.5 Km
Top Speed- 10 Miles / 16 Km Per Hour
Max Load - 100 Kg/220 lbs
Pros:
5kg lightweight skateboard that loads a

maximum

of 220lbs
It comes with eight layers of durable and flexible maple wood
It has an abrasive layer of grip tape for added rider safety
The bash guards that protect the skateboard's tail
It also comes with a convenient carrying backpack for added mobility
Cons:
Backfire Mini
The Backfire Mini is a model designed to be portable. You will see that it's less than 13lbs of weight, with this Backfire skateboard, describing this model as the perfect city dweller's choice of commute. Moreover, you can easily extend the range with its exchangeable battery, which comes in the Standard 175Wh, along with the Airborne 99Wh, which is a separately available purchase option.
The eboard is carbon fiber and you also get a wheel size of 85mm in diameter, however, you can purchase larger wheels separately if that's more your thing.
Specs:
Motors: 2x 450W hub motors
Board Weight: 13.2 lbs / 6 kg
Pros:
Great balance between power and range
Deep concave for easy turning
The carbon fiber deck is lightweight and durable
Cons:
A tad expensive compared to competitors
No shock-absorbing grip tape
Exway Wave
The Exway Wave electric skateboard is a very high-tech choice. This skateboard is perfect for passengers or anyone looking for an amazing ride.
This one of the best mini electric skateboards has built-in tail lights which are controllable with the remote. Moreover, you can buy headlights as an add-on that integrates seamlessly into the deck.
It also comes in either a Hub motor version with dual 800W motors or with a Riot Kit that has dual 1000W belt-drive motors. So you can easily choose the one that best suits your style.
Specs:
Motors: 2x 800W (Hub) / 2x 1000W (Riot)
Deck: Concave with shock-absorbing grip tape
Board Weight: 15.2lbs / 6.9kg
Pros:
Customizable through a mobile app
The deck shape is very comfortable
Shock absorbing grip tape
Cons:
More expensive than other boards on this list.
Verreal Mini
The Verreal Mini electric skateboard is a great choice for anyone looking for a compact, lightweight board which offers an agile and invigorating ride.
You will find that there are two battery options. One is the 4.0Ah battery provides up to 10 miles of range, while the other is the 6.0Ah battery gives you up to 16 miles of range.
This amazing eboard has dual 250W motors that can reach speeds of up to 25mph / 40kph and climb hills up to a 30% hill grade.
Specs:
Battery: 4Ah (10 miles) or 6Ah (16 miles)
Motors: 2x 250W hub motors
Board Weight: 15.4lbs / 7kg
Pros:
You will feel like a traditional skateboarder
3 different battery options.
Cons:
No shock-absorbing grip tape.
Onsra Challenger
The ONSRA Challenger is one of the top-of-the-line electric skateboards that features double kingpin super carve trucks, 2 x 1300 watt motors, and a Samsung 12S2P 10Ah battery.
Depending on the wheel choice you find comfortable, you'll get different performance numbers. But the max you're looking at is a top speed of 33mph / 53kph, a huge hill-climbing ability of up to 35%, and a range of 26 miles / 42km.
It has a max load of 330lbs / 150kg which is at the higher end for the mini electric skateboard category.
Specs:
Battery: 12S2P 10Ah 432Wh
Motors: 2x 1300W belt-drive motors
Wheels: 105mm Cloudwheels
Board Weight: 21.6 lbs / 9.8 kg
Warranty: 12 months from the date of receiving.
Pros:
Built for the hardest of riders
Customizable with any wheels
DKP trucks allow for extreme carving
Shock absorbing grip tape.
Cons:
Expensive (but worth it).
enSkate R3 Mini
This is a really fun and futuristic electric skateboard that is portable and sits in the goldilocks sweet spot of power.
The kicktail makes the eboard flexible and easy to steer, adding to the enjoyment of skating and making it practical to ride in built-up areas with lots of people and sharp corners like school campuses for example.
Specs:
Battery: 10S1P 2.5Ah 36V 90Wh
Motors: 2x 450W hub motors
Pros:
Kick tail perfect for added maneuverability
Squishy and grippy wheels
Cons:
No shock-absorbing grip tape.
Maxfind Max Pro 2
If you are new to the skateboard game you will find the Maxfind Max Pro 2 mini electric skateboard provides power at the ready for new riders to grow into as they become more confident.
This skateboard has dual 600W hub motors and a 10S2P 4.4Ah 158Wh battery allowing it to reach speeds of up to 24mph / 38kph and travel up to 15 miles / 24km on a single charge.
Its deck is made from nylon fiber and glass fiber and encases all the electronics inside the deck, which makes it highly durable and rigid. It is perfect for keeping balanced at high speeds and protecting the electrical components safe from bumps, scrapes, and debris.
Specs:
Battery: 10S2P 4.4Ah 158Wh
Motors: 2x 600W hub motors
Board Weight: 15lbs / 6.8kg
Pros:
Electronics integrated into deck.
Cons:
No shock-absorbing grip tape
FAQs
1. Are electric skateboards worth it?
If you're worried about your carbon footprint, an electric skateboard is a great way to lower it. As they need significantly less power, they are better for the environment compared to driving a car. You also don't have to worry about gas, which was a big plus for me.
2. How long do electric skateboards last?
If the board and battery are maintained properly then a Li-Ion Battery (Standard Battery) will last for 300-1000 charge cycles before reaching 80% of its capacity (the international standard to rating cycle life). That means if you use your electric skateboard daily the battery will last for about 1-3 years.
3. Can electric skateboards go uphill?
Yes, they can.
4. Can you ride an electric skateboard on the sidewalk?
California law is using an electric skateboard. California Vehicle Code § 21968(a) states that a motorized skateboard cannot be used on any sidewalk, roadway, or any part of a highway, bikeway, park or trail, equestrian or hiking or recreational trail.
Conclusion
So, here it is, the best mini electric skateboards for you to choose from. Add a bit of fun to your life and make sure your everyday journey becomes an adventure by using an electric skateboard.